2013 Holiday Gifts That Give List
Ten Gifts Under $50 That Give Three Ways for the Holidays – to the Receiver, the Giver, and a Charity! When was shopping ever this much fun?
I am releasing my Gifts That Give List just in time for the holidays and I'm keeping each item under $50. It's a way to let you know how many retailers are making it easier to be charitable than ever before and that there are some amazing gifts out there that help causes in America and around the world.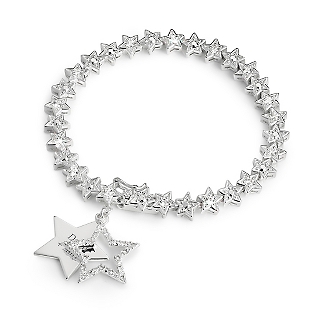 1.
Make-a-Wish Star Bracelet
for $30.00. I love gifts you can personalize and this one comes with a star attached that you can have engraved. You can get it at Things Remembered which will be giving a minimum of $150,000 to the Make-a-Wish Foundation which grants wishes to terminally ill children.
2.
Handmade glass ornament
for $29.50. Use it at Christmas or any time hanging in a tree or window where it can be seen by all. Net proceeds from the ornament will go to fund the ASPCA
helping America's animal population via community outreach, government relations and humane education. Find it at the ASPCA gift store.
3.
World of Good Gift Box
for $49.
Indulge in a delicious bottle of

ONE

HOPE Merlot and Madécasse Chocolate bars. Each bottle of

ONE

HOPE Merlot helps fund treatment for children with HIV/AIDS in Africa. Madécasse chocolate generates income for indigenous African farmers, too. Find it at One Hope.
4.
Punjammies
for $35 in a variety of colors and patterns. These pajama bottoms give girls saved from sex trafficking a second chance at life. The International Princess Project teaches girls formerly held in slavery for sex how to sew and make a living. These great jammies are the result!
5. Obakki water bottle
for $29.00. What's great about this water bottle is that it provides water for you and 100% of the money of you spend on it goes to provide wells for people in the Sudan, too. Find it at Obakki.
6. Beautifully artistic journals and notebooks
for $9-$15 at Denik.com. Created by artists from around the world, these notebooks fund new schools around the world and also help artists get their work seen.
7.
Argyle blanket
for $50 from Blanket America. Blanket America gives one item for every one purchased to stop poverty in America. It also has a Choose Haiti option for blankets and sheets to go to help Haiti.
8.
Love Boxes
for $20.00 to $24.00 from Peace Keeper Cause-Metics. Give awesome Yum balms, mega balms, or lipstick or nail polish while providing funds for women's health advocacy and urgent human rights issues.
9.
St. Jude Glass Knot paperweight
for $19-39. West Elm will give $5 to St. Jude Children's Hospital from the sale of each of these assymetrical paperweights.
10.
Janji Designed Good Running Shirt
for $35.00. All Janji running apparel helps to end the global food and water crisis by funding efforts in Bangladesh, Haiti, Kenya, Rwanda, and Tanzania. They look great, too, with a cool color wrap on the front and back of the shirt! Get them at DesignedGood.com.